Introduction



THE OVERNIGHT REEMERGENCE
of Babylon the "GREAT CITY"

This whole 7-part series is Original Research using primary and secondary sources. copyright bibleprophecyaswritten 2020
"the kings of the earth...saying ... ' the great city, Babylon, the strong city! ... such great wealth '
... all the nations were deceived by your sorcery." (Revelation 18:9-10, 17, 23)

The 2020 Mid-America Prophecy Conference may have been cancelled (Coronavirus), but the message of Bible Prophecy has not. Here, the introduction with 7 parts to follow, is the message I was scheduled to give at the Conference.

THE END-TIME REEMERGENCE OF BABYLON the "GREAT CITY"

Why Babylon cannot be Babylon (according to the popular understanding)

It would take years for Babylon to be rebuilt into a Giant city as the hub of world trade and power.
Therefore, "Babylon" must be a, Super-Large, Super-Rich, ALREADY EXISTING city with a DIFFERENT NAME.

That's called REPLACEMENT!

BELOW: The common understanding of why, in the Bible prophecies, Babylon must be "replaced" by another city .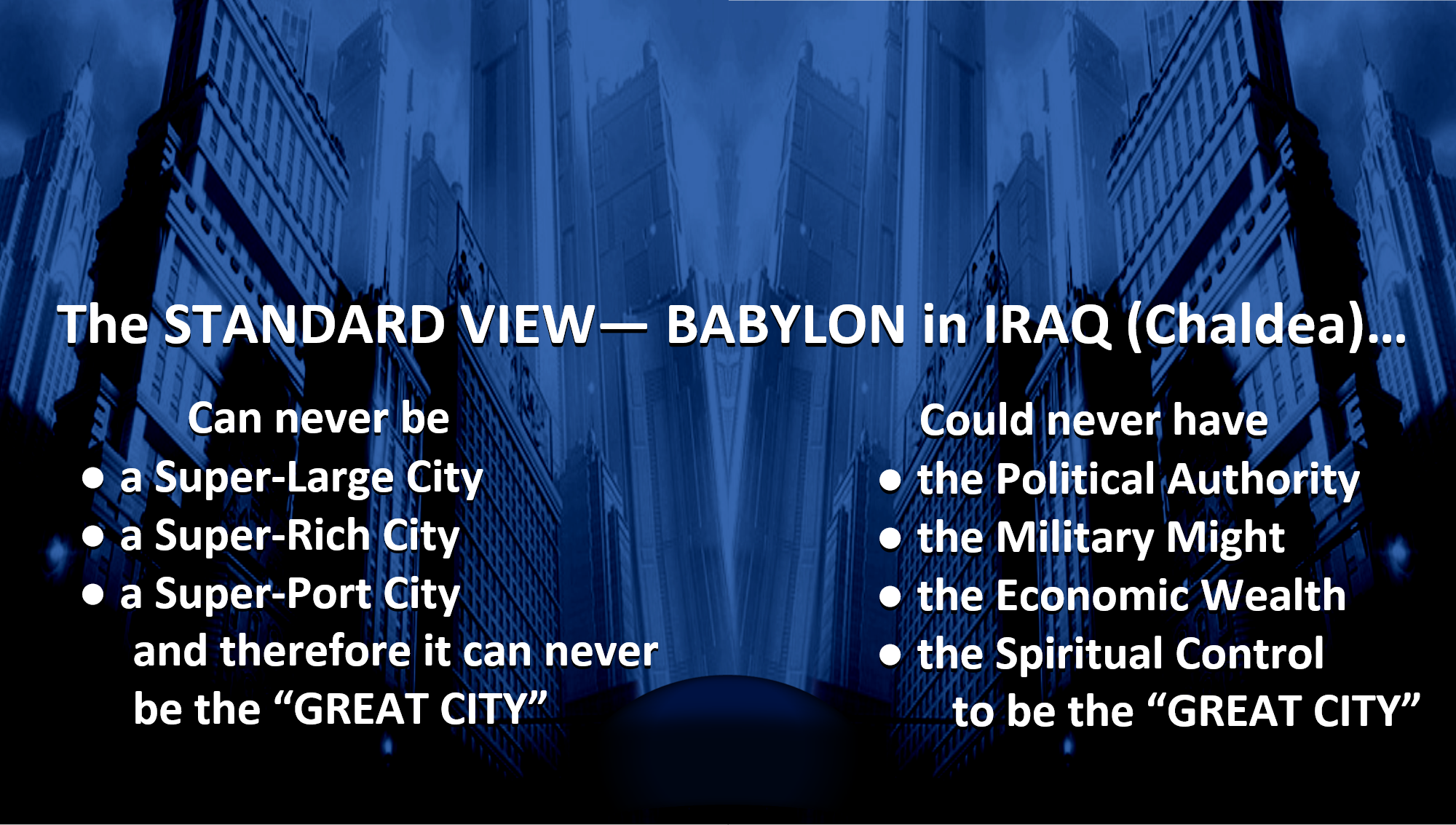 It would seem impossible that a relic city like the ruins of original Babylon could rise up to embody the characteristics of an "overnight" giant skyscraper-city as demanded by the scenario above.

But the OVERNIGHT RISE of the "Great City" is not a "missing sign" in the Bible…
We find its Fulfillment in the prophecies of the Literal City of BABYLON in Iraq (Chaldea ).

In 7 parts (to follow), we will present the evidence that,

1. Babylon of Chaldea (Iraq) has Survived to fulfill its prophesied date with destiny.

2. Babylon has been rebuilding, inconspicuously, and unnoticed, for centuries.

3. Revelation's title "Babylon the Great City" does not require Babylon to be a Super-Large city.

4. The description "the Wealthy City" does not require Babylon to be a city of long-standing wealth.

5. Babylon "the Great" does not require Babylon to be a massive Seaport City.

6. Babylon of Chaldea has not been "Replaced" any more than Israel of Mt. Zion has been Replaced.

7.Babylon, Iraq, has a prophetic-time appointment that parallels that of Israel.

If the evidence sustains these 7 points, where is the need for a metaphorical Replacement to the plain, common sense, literal understanding of the word "Babylon"?

The GOSPEL in Revelation:
The 5th verse from the beginning,
Jesus Christ...To Him who loves us, and released us from our sins by His blood, (Revelation 1:5
The 5th verse from the end,
"... And let the one who is thirsty come; let the one who wishes take the water of life without cost." (Revelation 22:17
The Book Of Revelation, apocalyptic and foreboding, is actually "FRAMED" by the GOSPEL OF SALVATION in Jesus Christ. Here's how you can be saved...