PROPHECY RETREATS
Schedule & Information


Each year there is our annual Mid-America Prophecy Conference. In between this big Conference are Prophecy Retreats, generally held twice a month. These are open, free meetings (we do provide the opportunity for free-will offering.)
EXAMPLE: We have studied The Book Of REVELATION...chapter by chapter... the same with Daniel, Ezekiel, Zechariah, etc... also " Prophecy In The Words Of Jesus"... and thematic studies such as "The Signs Of The End Times", "Current Events In Prophecy", "The Russian-Islamic Invasion Of Israel" (Eze 38-39), "The Millennial Kingdom", "Heaven", "Angels", "How We Got Our Bible", and many more--We will revisit all of these, and more... JOIN WITH US--NO COST.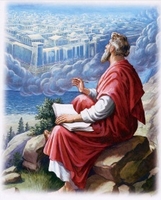 PROPHECY RETREATS

the Prophecy Retreats in Tulsa on Thursday
Doors open at 6pm--coffee and snacks. Study starts at 6:30pm.
Eastwood Baptist Church, ROOM 102

949 S. 91st E. Ave.
(11th St. between Memorial & Mingo)
Tulsa, OK
PROPHECY RETREAT SCHEDULE
July 7 & 21
The NEW WORLD ORDER—Parts 1 & 2

(a thorough & faithful journey into the coming NEW WORLD ORDER,
with application to TODAY'S world.)
SEE YOU THERE...!
These studies are non-speculative, short on "sensationalism," long on solid-BIBLE... bring your Bible and expect warm fellowship (snacks, coffee-tea) and plain-stated study made easy to understand by Graphic Power Point visuals.