PROPHECY RETREATS
Schedule & Information


Each year there is our annual Mid-America Prophecy Conference. In between this big Conference are Prophecy Retreats, generally held twice a month. These are open, free meetings (we do provide the opportunity for free-will offering.)
EXAMPLE: We have studied The Book Of REVELATION...chapter by chapter... the same with Daniel, Ezekiel, Zechariah, etc... also " Prophecy In The Words Of Jesus"... and thematic studies such as "The Signs Of The End Times", "Current Events In Prophecy", "The Russian-Islamic Invasion Of Israel" (Eze 38-39), "The Millennial Kingdom", "Heaven", "Angels", "How We Got Our Bible", and many more--We will revisit all of these, and more... JOIN WITH US--NO COST.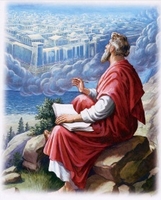 PROPHECY RETREATS

the Prophecy Retreats in Tulsa on Thursday
Doors open at 6pm--coffee and snacks. Study starts at 6:30pm.
Eastwood Baptist Church, ROOM 102

949 S. 91st E. Ave.
(11th St. between Memorial & Mingo)
Tulsa, OK
PROPHECY RETREAT SCHEDULE
Oct 6, 20; Nov 3, 17; Dec 1, 15—"Prophecies of the 4 Gospels"
"The Gospel-Prophecies", focusing on the prophecies in the first four books of the New Testament—Matthew, Mark, Luke, and John.
All of today's political and social "hot buttons" are caught in the glare of Heaven's Holy Light in these prophecies.
We won't shrink from any of them. We will receive these powerful prophecies for what they are,
...God's Word on the End Days.
...filled with somber warning,
...filled with Eternal Hope!
I encourage you to do a pre-study in preparation before Oct 6 HERE... SEE YOU THERE...!
These studies are non-speculative, short on "sensationalism," long on solid-BIBLE... bring your Bible and expect warm fellowship (snacks, coffee-tea) and plain-stated study made easy to understand by Graphic Power Point visuals.