PROPHECY RETREATS
— PROPHECY SUMMIT below
Schedule & Information


Each year there is our annual Mid-America Prophecy Conference. In between this big Conference are Prophecy Retreats, generally held twice a month. These are open, free meetings (we do provide the opportunity for free-will offering.)
EXAMPLE: We have studied The Book Of REVELATION...chapter by chapter... the same with Daniel, Ezekiel, Zechariah, etc... also " Prophecy In The Words Of Jesus"... and thematic studies such as "The Signs Of The End Times", "Current Events In Prophecy", "The Russian-Islamic Invasion Of Israel" (Eze 38-39), "The Millennial Kingdom", "Heaven", "Angels", "How We Got Our Bible", and many more--We will revisit all of these, and more... JOIN WITH US--NO COST.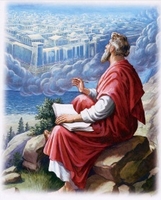 PROPHECY SUMMIT

"WINDS OF CHANGE"
—NO COST—
6:30 pm, March 23, 2023
Eastwood Church, ROOM 102
949 S. 91st E. Ave.
(11th St. between Memorial & Mingo)
Tulsa, OK
Doors open at 6pm--coffee and snacks.
(we are grateful to Eastwood for letting us use their centralized location)
You and you guests are invited to a PROPHECY SUMMIT. This is a non-denominational meeting leading up to The 14th Annual Mid-America Prophecy Conference ... HERE.
Why a Prophecy Summit? Because the "WINDS OF CHANGE" are upon us. Change, for example, seeking even to dismantle and redefine God's created order. We are confronted with other ungodly changes in virtually every area of life.
But God does not change. (Ml 3:6) Nor does His Word. (Ps 119:160) And He has promised to be with us. (He 13:5) Therefore let us remember the Words of Jesus as we encourage one another to,
1. Stand firm for the absolute Truth of God's Word. (Jn 14:6; 17:17)
2. Stand up as God's "pillar and support of the Truth." (1 Tm 3:15)
3. Heed the prophetic warning of Jesus, who IS the Truth, about the "days of Lot". (Lk 17:28-10)
4. Proclaim the love of Jesus' with His Spirit of "Grace and Truth." (Jn 1:17)
We hope you can join us! Bring some guests if you can. We will meet for about 45 minutes.
The 14th Annual
MID-AMERICA PROPHECY CONFERENCE
May 26-27, 2023 "WINDS OF CHANGE"
and the GOD WHO DOES NOT CHANGE
"...the four winds of heaven were stirring up
the great sea...of nations who rush on like the
rumbling of mighty waters...of many peoples
who roar like the roaring of the seas...But He will
rebuke them...For I, the LORD, do not change..."
(Dan 7:2; Isa 17:12-13; Mal 3:6)
The WINDS OF CHANGE are sweeping across the world.
History-breaking fundamental CHANGE.
Change challenging the core laws of Creation itself.
"And the rain descended, and the floods came, and the winds blew, and burst against that house; and yet it did not fall, for it had been founded upon the rock. (Ma7:25)
"Trust in the LORD forever, For in GOD the LORD, we have an everlasting Rock." (Is 26:4 )
PROPHECY RETREAT SCHEDULE
Temporarily suspended ... recheck after May 1, 2023
SEE YOU THERE...!
These studies are non-speculative, short on "sensationalism," long on solid-BIBLE... bring your Bible and expect warm fellowship (snacks, coffee-tea) and plain-stated study made easy to understand by Graphic Power Point visuals.