RUSSIA ("MAGOG")--UKRAINE
at the
The 12th Annual MID-AMERICA PROPHECY CONFERENCE
May 13-14, 2022, Tulsa, Oklahoma
The Conference WAS GREAT!
If you have attended one of the Conferences
between 2018-2022
we will send you a free Video link upon request
where you can watch & study each session at your leisure!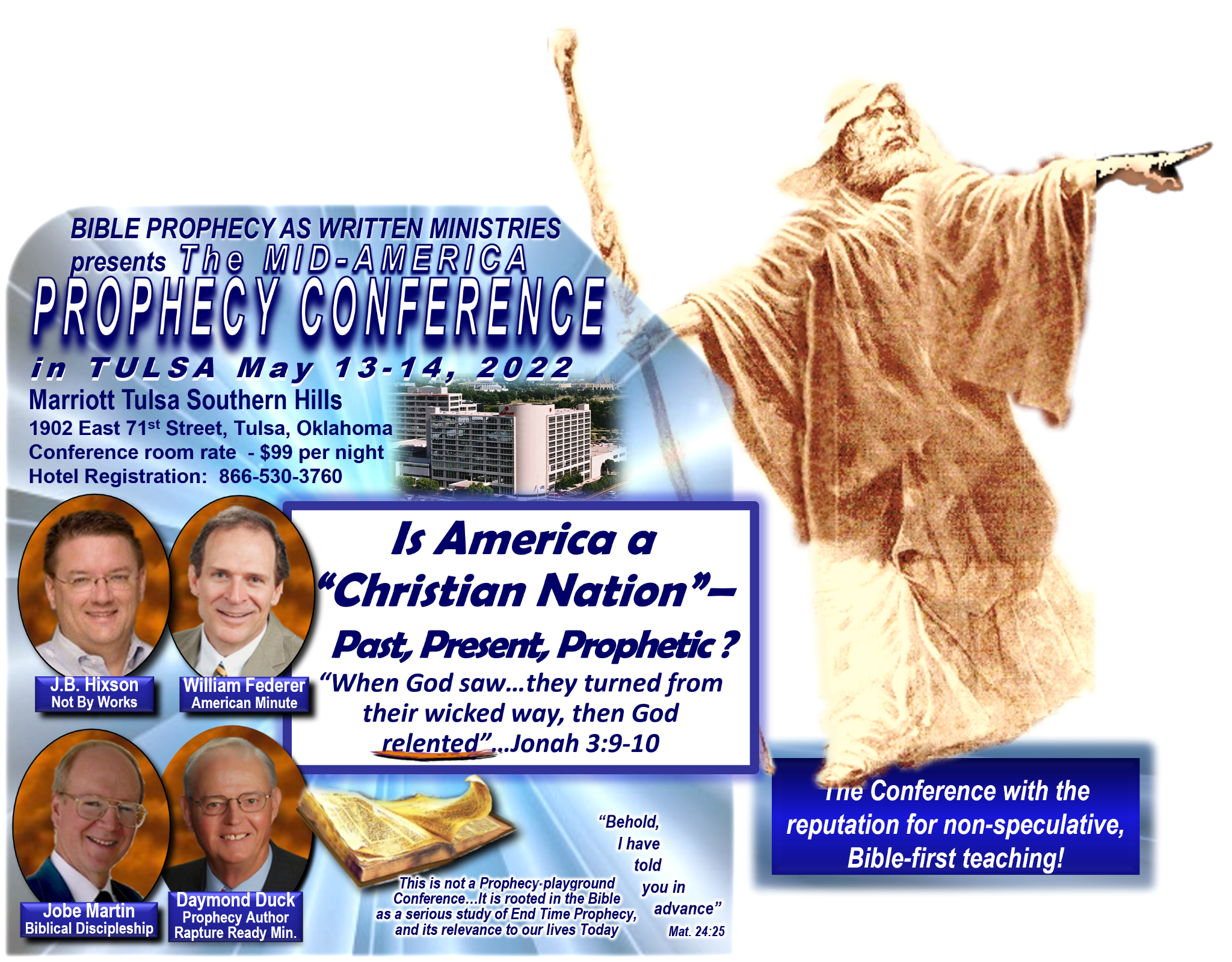 SPECIAL ATTENTION:
was given to the

"RUSSIAN INVASION OF UKRAINE"
and Bible Prophecy

Has the Hand of God been a factor in the Founding of America ?...
... or anywhere in the relatively short History of America's journey ?
Are we DONE ? Are we "CANCELLED" ?

Is America's support of Israel, God's Grace upon America, the revival of a Creationist worldview, or a return to America's foundational principals essential for America's future journey and survival ? All were placed under the light of Scripture in this critical moment in the Biblical march of Prophecy.
The light of Bible prophecy was shown on this question,
"Does our Nation have a role—or a Future? "

This is the Prophecy Conference with the reputation for non-speculative,
Bible-first teaching!
All made clear at our May 13-14, 2022 at this Bible Prophecy VACATION ...
… set aside by so many for the past 12 years.
The coming of Jesus Christ is in the very near future judging from the explosion of End Time signs gushing forth from the big-screen on your home TV. Join us for this annual Conference, which has a reputation as one of the best in America—solidly grounded in What The Bible Says!
The strong Bible study is linked together with warm fellowship. Seating with classroom tables (for your Bible, water, note pad) in a large auditorium provides for maximum comfort. Anticipate sharing the Word with some of today's most highly regarded prophecy teachers. But most of all, know that the focus of this Conference is on the Grace and the Glory of Jesus Christ.
(Speakers BELOW—
Complete Schedule BELOW)
The MARRIOTT HOTEL
SOUTHERN HILLS TULSA

...site of the
Annual Mid-America Prophecy Conference

Right:
The

12th Annual
MID-AMERICA 2022

PROPHECY CONFERENCE
(in a succession of 27 Prophecy Conferences in Tulsa, one of the longest running in America;
the 2020 Conference was cancelled due to COVID)

—HERE were our SPEAKERS—
(in alphabetical order)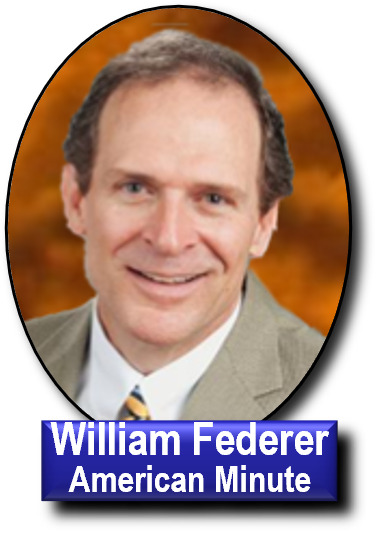 WILLIAM J. FEDERER
https://americanminute.com/pages/american-minute
William J. Federer is a nationally known speaker, best-selling author, and president of Amerisearch, Inc., a publishing company dedicated to researching America's noble heritage.
Bill's AMERICAN MINUTE radio feature is broadcast daily across America and by the Internet. His Faith in History television airs on the TCT Network on stations across America and via DirectTV.
A former U.S. Congressional Candidate, Bill has appeared in dozens of Television and radio programs and news publications. He has written down his detailed research on America's Founding and Historical Journey in many books and publications, This has led to His works being quoted by authors, politicians, leaders, journalists, teachers, students and in court cases.
Bill wrote the classic "America's God and Country Encyclopedia of Quotations" which has sold over a half-million copies, and has prompted demand for Bill as a speaker far and wide.

DAYMOND DUCK

Everyone knows prophecy expert Daymond Duck and his "Current Affairs In Light Of Prophecy" presentations at this CONFERENCE for the past 20-some-years... BUT... in case you don't know Daymond, here is his bio info—
By God's grace, Daymond Duck is a graduate of the Univ. of TN in Knoxville, TN, the founder of Prophecy Plus Ministries which he ran for many years, the best-selling author of a shelf full of books (three have been published in foreign languages), a member of the prestigious Pre-Trip Study Group, a conference speaker, and a writer for raptureready.com. He is a retired United Methodist pastor, has made more than 300 TV appearances and has been a member of the Baptist Church in his home town since 2006.
We are blessed and delighted that Pastor Duck will be with us again this year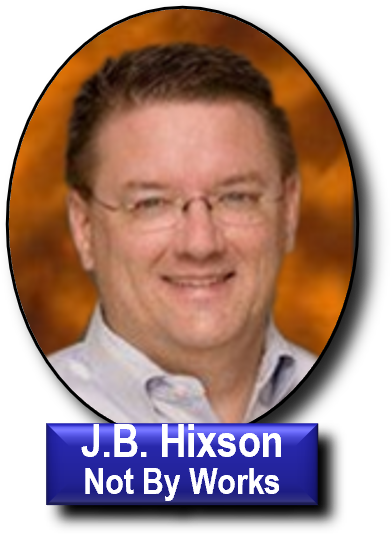 J. B. HIXSON https://www.notbyworks.org/
J. B. Hixson is a nationally known author, speaker, and radio host, with more than thirty years of ministry experience in the pastoral and academic arenas. Recognized for his expertise in systematic theology, Dr. Hixson has a passion for communicating important theological truths from God's Word in a clear and easy to understand way and for helping others learn how to study the Bible effectively for themselves. Dr. Hixson has served on the faculties and adjunct faculties of nine colleges and seminaries.
He earned his B.A. degree from Houston Baptist University, Th.M. degree from Dallas Theological Seminary, and Ph.D. degree from Baptist Bible Seminary. He has authored ten books and contributed to many theological journals, magazines, newspapers, and other print and online media. His articles have been featured on Harbinger's Daily, and he is a regular guest on Stand Up for the Truth radio with David Fiorazo and the Christian Underground News Network podcast with Curtis Chamberlain.
When he is not traveling for speaking engagements, he is in the pulpit at Plum Creek Chapel in Sedalia, CO where he serves as the Lead Pastor. J. B. and his wife Wendy have been married for thirty years and have six children and one granddaughter.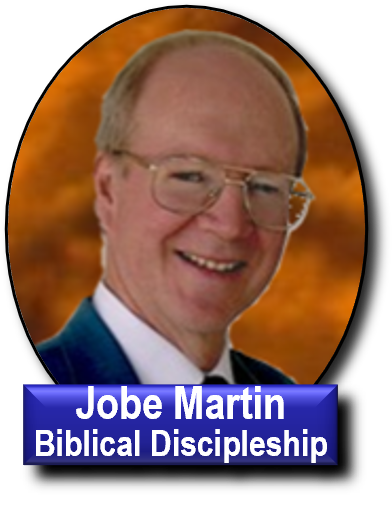 JOBE MARTIN https://biblicaldiscipleship.org/
Biblical Discipleship Ministries is a teaching and discipleship ministry for the purpose of bringing the good news of Jesus Christ to the world. God has called Dr. Jobe Martin and his wife Jenna Dee Martin to travel, teach, evangelize and disciple people in all walks of life.
Jobe is a a 1966 graduate of the University of Pittsburgh Dental School which eventually led to two years in the Air Force where he was the dentist for the Presidential flight crew of Air Force One, He is a graduate of Dallas Theological Seminary with a Masters in Theology, and from The Institute for the Creation Research's School of Biblical Apologetics with a D.Min. Jobe and his wife Jenna Dee founded their creation discipleship ministry, Biblical Discipleship Ministries, based on these life experiences which he refers to in his book called "The Evolution Of A Creationist".

Like those above, Dr. Martin is a much sought-after speaker.
Meet our MUSIC & WORSHIP DIRECTORS
SHAWN & ALISON CRANE
(Shawn also handles stage & AV management)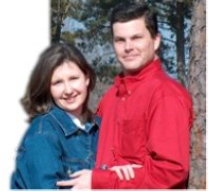 BELOW: You don't want to miss "MIDNIGHT CRY" by Shawn !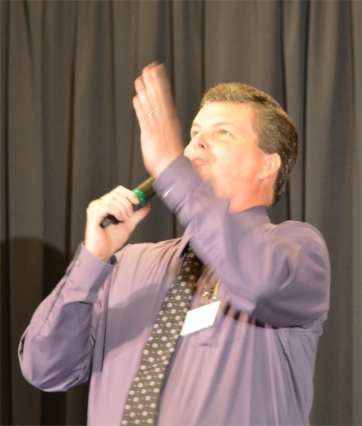 LEFT:

Shawn and Alison Crane have been singing together for over 26 years. They have now been married for 24 years.
Serving 29 years in Music Ministry, Shawn is now the
Minister of Music at Center Fork Baptist Church in Hot Springs, AR.
Alison has worked with choirs and drama ministries for over 28 years, and is now serving as
Kidz Choir Director and Director of Drama Ministries at Center Fork.
Shawn and Alison have led the worship at the
Mid-America Prophecy Conference since 2004.
Their missionary and music ministry has led them to sing in the U.S., Canada, Greece, Italy, Russia, Romania, Turkey, Spain and Israel.
Shawn & Alison have three wonderful children,
Anna, 22, Jonathan, 20, and Jolie, 18.
Psalm 104:33
is the theme verse for their lives:
"I will sing to the Lord all my life;
I will sing praise to my God as long as I live."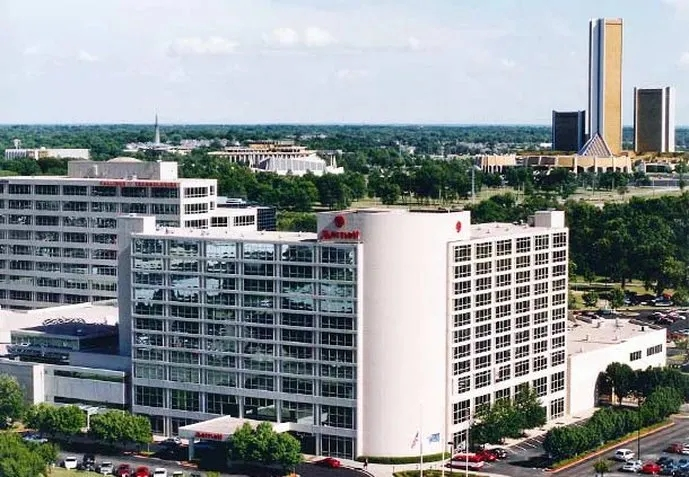 LEFT: Tulsa Marriott Southern Hills


RIGHT: Large Auditorium, Classroom Tables, 2 Giant Screens, Book table resources & Starbucks right outside the auditorium doors. Look at the comfortable & useful setting enjoyed by all !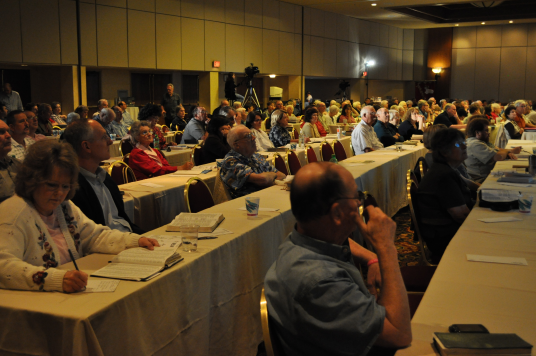 The 2022 MID-AMERICA PROPHECY CONFERENCE—Abbreviated Schedule
Full Schedule below...

Is America A Christian Nation—Past, Present, Prophetic ?

May 13-14 , 2022
Friday 9am-9pm ... Saturday 9am-3pm
Watch for the 2023 Conference !

Complete SCHEDULE below...