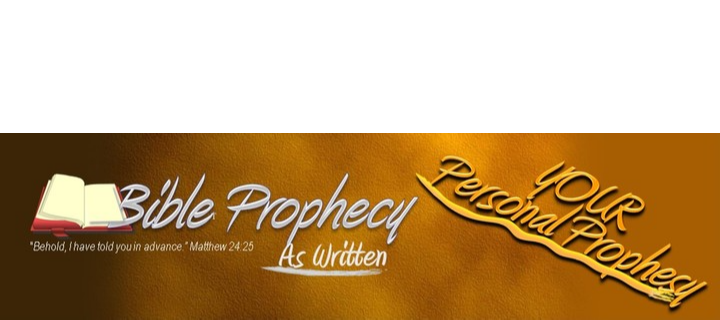 God will be WITH you throughout your life
Part 2 -- JACOB
(PERSONAL PROPHECY--An unconditional promise to a Believer is like a prophecy-- IT WILL HAPPEN. These promise-prophecies are for you PERSONALLY as a Believer in Jesus Christ)

"I am with you always, even to the end of the age."
"I will not leave you as orphans; I will come to you."
"I will never desert you, nor will I ever forsake you."
Matthew 28:20; John 14:18; Hebrews 13:5

With these words, the Bible gives the unconditional promise to every believer that God "will be with you." As we've seen, a promise given by God without conditions WILL HAPPEN. This makes the promise equivalent to a Prophecy; It will be fulfilled.

The life of Jacob, the son of Isaac and the grandson of Abraham, provides a running commentary on how God is "with" a believer. In spite of sin and failure, a dis-functional family, deception, strife and tragedy, God was "with" Jacob.

The Bible says that the lives of the ancient people of God were an example to us through the Scriptures. (Rom. 15:4) God being "with" Jacob in his up-and-down life does not encourage careless and sinful living. (Rom. 6:1-2) Quiet the opposite. Jacob's life is a testimony to the all-prevailing Grace of God. God's Grace is greater than human failures.

...where sin increased, grace abounded all the more... Romans 5:20

Here is the revealing outline of "God with Jacob" throughout the events of Jacob's life. (Gen. 25-49) In reading this, take courage that God has been-- and continues to be-- "with you" in the same way, despite personal failures and faithlessness.

1. Jacob cons his older brother Esau out of his birthright.
2. Jacob steals the blessing of his father Isaac from his brother.
3. Jacob flees the wrath of his brother, moving far away to the house of his uncle Laban.

AT THIS POINT: Jacob receives this promise-prophecy from God that "I am with you."
"And behold, I am with you, and will keep you wherever you go, and will bring you back to this land; for I will not leave you until I have done what I have promised you." Genesis 28:15

"Most precious of all promises is that of the presence of the Lord. It was made here to Jacob in pure grace...and confirmed to us here today (Hebrews 13:5-6)."
Donald G. Barnhouse, Genesis, Vol. 2, Zondervan, 1970, p.86, as quoted in H.L. Wilmington, Wilmington's Guide To The Bible, Tyndale House Publishers, Wheaton, IL, 1982, p.49.

4. Laban deceives Jacob in marriage arrangement to his two daughters.
5. Laban cheats Jacob in 20 years of indentured employment.
6. Jacob deceives Laban and secretly packs up his family and flees.
7. Laban chases Jacob down and amid great strife both agree to the split.
8. On his return to his homeland Jacob is frozen in fear as his long estranged brother approaches with 400 men.
9. In the midst of deep prayer Jacob wrestles with the Angel of the Lord, who then blesses Jacob.
10. Jacob plans his defense, and seeks reconciliation with brother Esau. It happens, and Jacob returns to his homeland in future Israel.
11. Jacob's sons conceive treachery to revenge sister's abuse, murdering the men of an entire town. Jacob is distraught. God commands him to move away from the scene of the massacre.

AT THIS POINT: Jacob gives personal testimony to the fulfillment of God's promise-prophecy that "I am with you."
Jacob says...

...let us arise and go up to Bethel; and I will make an altar there to God, who answered me in the day of my distress, and has been with me wherever I have gone." Genesis 35:3

12. God blesses Jacob at Bethel.
13. Jacob suffers deep grief in 3 heartbreaks: wife Rachel dies giving birth to his 12th son (her 2nd); father Isaac dies; apparent "death" of son Joseph.
14. Jacob's sons deceive him into deep long-lasting grief through the lie of Joseph's "death."
15. Jacob's oldest son commits immorality within the family.
16. Jacob and family flee oppressive famine to Egypt
17. Jacob and Joseph are reunited in Egypt. Joseph would not have lied to father Jacob about his apparent "death," so Jacob learns of his sons 40-years of grief-inducing deception about Joseph's "death",

AT THIS POINT: God reaffirms his promise-prophecy to Jacob that "I am with you."
"I will go down with you to Egypt, and I will also surely bring you up again; and Joseph will close your eyes." Genesis 47:9

Jacob realizes that though God often delivers him FROM distress, God at other times is "with" him THROUGH distress. (Psalm 23:4)
So Jacob said to Pharaoh, "The years of my sojourning are one hundred and thirty; few and unpleasant have been the years of my life..."
( "because his life had been one almost unbroken series of trouble." Jamieson-Fausset-Brown)
("small in number and full of sorrow have been the years of my life" Bible Basic English)

AT THIS POINT: Jacob witnesses to his sons that God is "with you" throughout your life.
And he blessed Joseph, and said, "The God before whom my fathers Abraham and Isaac walked, The God who has been my shepherd all my life to this day..." Genesis 48:15

BELOW: Beginning at TOP LEFT, follow the sequential graphic; the episodes of Jacob's life are shown on the brown ribbon-of-time; God's graceful "I Will Be With You" promises are shown in their proper time-slot in the blue---Jacob's up-and-down life did not cancel out God's promise-prophecy to be "with you"...through "thick and thin" God was with Jacob! He is doing the same for you!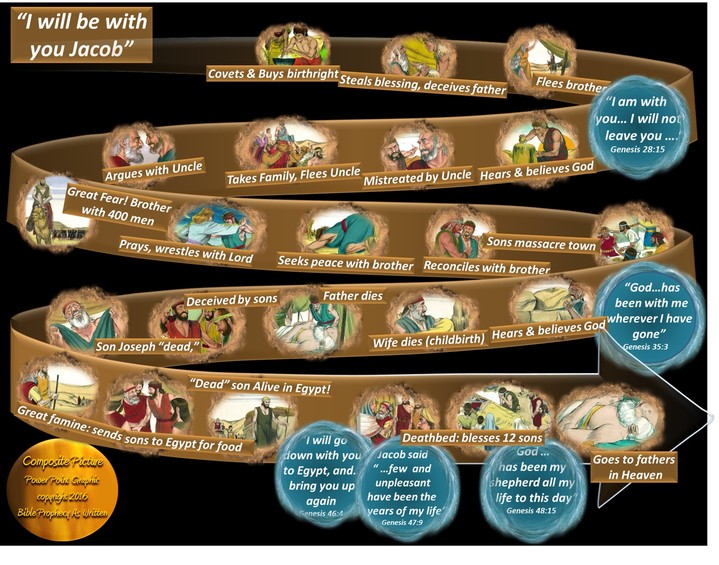 Jacob assures his sons that God "will be with you."
Then Israel [Jacob] said to Joseph, "Behold, I am about to die, but God will be with you, and bring you back to the land of your fathers. Genesis 48:21

Jacob, as well as his fathers, believed that God was with them as promised-prophesied.
By faith he lived as an alien in the land of promise, as in a foreign land, dwelling in tents with Isaac and Jacob, fellow heirs of the same promise... Hebrews 11:9

Jacob's life experiences reflect in some ways our own. The God of Jacob is our own. God's prophecy, that "I am with you", as with Jacob, belongs to us: "I will never desert you, nor will I ever forsake you." Hebrews 13:5

BELOW: God's Personal Prophecy for you: "I am with you" throughout your life.