...

In the article "Israel Has God-Based Security TODAY", we saw that...

TWO RELATED CONDITIONS MUST EXIST BEFORE THE INVASION CAN OCCUR.

Israel is said to be...
1) "living securely" at the time of the invasion. (Eze.38:8, 11)

2 ) as a "land of unwalled villages"

Are these two conditions the case today?
The answer to the FIRST QUESTION was "Yes". The answer to the SECOND QUESTION below...
IS ISRAEL a land of "UNWALLED VILLAGES" TODAY?
2. Condition # 2--IS ISRAEL a land of "UNWALLED VILLAGES" TODAY? 
Now, concerning the Second condition--
"a land of unwalled villages"
"...and they are living securely ...and you will say, 'I will go up against the land of unwalled villages... without walls, and having no bars or gates" (Eze.38:8-11)

The "thoughts" in Russia's mind are that Israel is--for all practical purposes-- a "land of unwalled villages." Why? Because Russia believes it can easily BREACH Israel's defensive 'missile-walls'.
NO "WALLS, NO GATES, NO BARS"
In ancient times (even in the Middle Ages) cities were often built surrounded by a massive wall with gates that were barred shut. This was their security system. Ezekiel 38:11 says that when Magog invades Israel it will be a "land of unwalled villages...without walls, and having no bars or gates." Are these Literal stone walls? Is Israel Unarmed?.......

ARE THE WALLS LITERAL OR SYMBOLIC?
In ancient times, as the primary security system, walls were very literal. But then we also see "swords," "shields," and an "army of horses & horsemen," etc., in Ezekiel 38-39. (Eze.38:4)
SWORDS, HORSES & CHARIOTS— ANCIENT TERMS DEPICTING MODERN WARFARE
Note the Chart below. In Ezekiel's day a literal "walled-city" described a literal walled city. The walls were a fortification for military DEFENSE. Likewise, a literal "sword" spoke of a literal attack weapon—military OFFENSE.
Ezekiel 38-39 uses a variety of ancient military terms in describing today's modern military. (38:4, 11, 15, 20, 21; 39:3, 20, 23) We know this because these terms are set in the context of an "army" (38:4) and "troops" (39:4) with "weapons" (39:9) which attack Israel "in the latter years...in the last days."(38:8,16) "Latter years" has become our Modern World.
Therefore, just as a "sword" was a weapon of OFFENSE, today a missile or mortar would be its modern counterpart. Likewise, just as a "wall" was a fortification of DEFENSE, today its equivalent would be a missile defense system, or a "wall" of armored and troop forces. The city of Old Jerusalem is surrounded by a 40-foot tall wall that is 8-feet thick. Is this Israel's defense system of Jerusalem against the Russian air and missile force? If so, then that wall must disappear before the Russian Invasion to make Israel a land of "unwalled villages". Yet, Jerusalem's wall will be standing at the time of the subsequent Antichrist-Invasion according to Joel 2:9 & 22.
When "unwalled...gates...bars" are used in the same context as "swords...bow & arrows...horses & chariots," then the walls/gates/bars refer to MILITARY DEFENSE SYSTEMS. As such, the terms "unwalled...gates…bars" refer to ISRAEL'S MILITARY DEFENSE SYSTEM, just as "swords" etc., refer to RUSSIA'S MILITARY OFFENSE SYSTEM.
LET'S BE HONEST WITH THE TEXT

If we want to insist that "unwalled...gates...bars" refers to a concrete/fence-wall as being Israel's modern military defense system, then the same passage also declares that Israel's modern military offensive forces will be equipped with "weapons" (39:9) which include 3-foot-long "swords" (38:21), 6-foot tall "horses" (39:20) and 2-wheeled "chariots" (39:20), (in addition to "shields and bucklers, bows and arrows, war clubs and spears"; 39:9)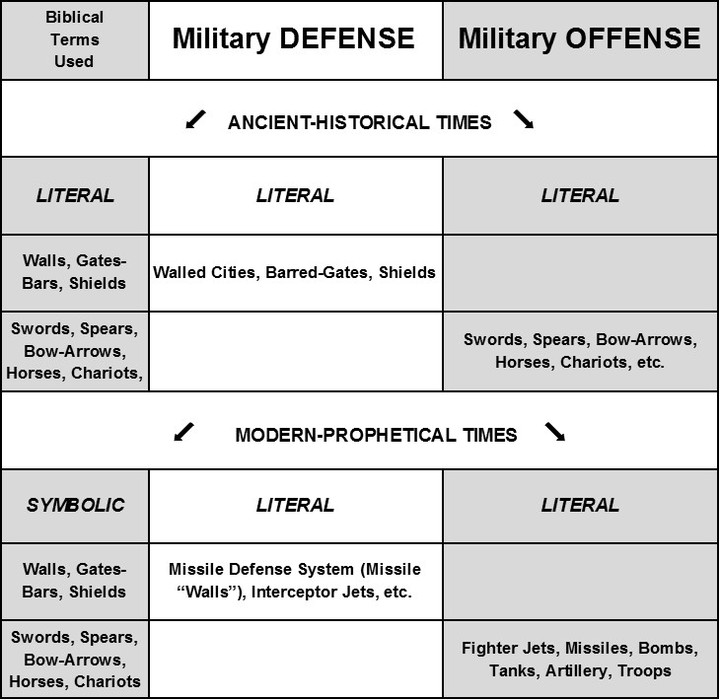 NOTE: Ezekiel 38:20 says "every wall will fall". But this is in the context of the judgment on Israel's enemy invaders ("I shall enter into judgment with him...on his troops and on the many peoples who are with him"; v.23). The enemy also has defensive "walls" as any invading army does. Just as the "sword" fighting (v.21) between enemy soldiers must be updated to modern offensive weapons, so must their "walls" (v.20) be updated to modern defensive weapons, or perhaps "barriers". Note that the "mountains" also fall (v.20). Mountains often serve as natural defensive "walls". Since mountains don't upgrade through time, but weapons do, then there is no problem with the terms "mountains" and "walls" within the same context to have an "old mountain" along with a "sword" to "rifle" upgrade.