2022 You Tube Videos & Conference Report

All content on this page is
♦copyright Bible Prophecy As Written ♦

The content is a resource for the use of PARTNERS of Bible Prophecy As Written.
Please do not share access to this page. It is a resource for PARTNERS to enrich your own personal witness to those the Lord places in your path.(Acts 1:8 )
As our PARTNER, we know you will pray for us.
This is your greatest gift to this ministry.
LEFT: God will place it on your heart if you can also help in this way—"Let each one do just as he has purposed in his heart...God loves a cheerful giver"
(2 Cor 9:7)
Though Bible Prophecy As Written is BY CHOICE not tax-deductable, it IS bearing fruit to the Glory of God. (1 Cor 10:31)

Conference REPORT 2022

... and VIDEOS

Report for the 2021 Annual Mid-America Prophecy Conference is now completed, further below...but first the Videos.
All Videos have been uploaded below ...just click on the links.
1. All content of each presentation is preserved in the Videos.
2. But technical difficulties have muted the view to some degree; this amounts to color shifts & occasional blurring. Again, the content is not effected.
3. Here is the Conference Schedule (as revised at the Conference), followed by the Videos.

Conference Report & Videos
Theme — "Is America A Christian Nation
—Past, Present, Prophetic ?"...(+ Russia-Ukraine)


"then God relented concerning the calamity which He had declared He would bring upon them. And He did not do it." Jonah 3:10
Every speaker recounted a clear Christian-America in its Founding & History (with equally clear un-Christian events), & an unprecedented departure from God TODAY!

Goal — To Glorify God by lifting up Jesus Christ & His Gospel...Center Stage... in the midst of warm fellowship, and in the context of the straightforward, written words of the Bible.
This is in line with the title of this ministry which is "Bible Prophecy As Written", i.e., "live by every word that comes out of the mouth of God" (Matthew 4:4)

What can we say? God blesses this Conference every year!
Our deepest appreciation to Dan for his excellent donation of time & effort on volunteer video work.
BELOW LEFT: The 2022 Annual MID-AMERICA PROPHECY CONFERENCE
Center section only; other sections where screens L&R are.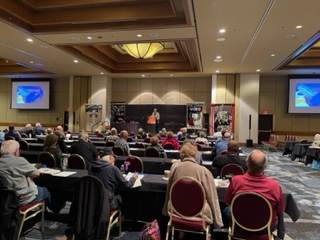 Registration— 139
Attendance — consistently 105-115

This Conference differed from previous conferences in this respect; in past conferences we would generally see fluctuations in attendance from morning to afternoon to evening, with some sessions being noticeably higher or lower in attendance.
This Conference (& 2021) was consistent throughout, with high attendance regardless of the time of day or particular speaker.
The Christian fellowship, as always, was striking!